Doctors and Staff
Meet the experienced and friendly dentists and staff who make New Direction Dental the leading provider of oral hygiene and personalized dental services in Tahlequah.
---
Dr. Brant Rouse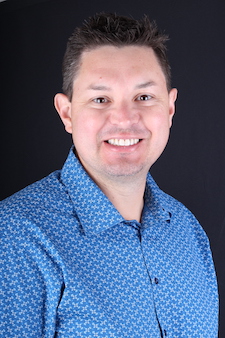 Dr. Brant Rouse has been in private practice serving this community since 2006.  He has enjoyed thirteen years in full-time private practice recently moving to our new office and location at 559 Meadow Creek Drive. 
Dr. Rouse attended the University of Oklahoma in Norman for four years studying microbiology, then received his Doctor of Dental Surgery degree from the University of Oklahoma College of Dentistry in 2004.  Brant is a native eastern Oklahoman having grown up on the south end of Lake Tenkiller graduating as Salutatorian of his 1996 class at Vian Public Schools.  Dr. Rouse spent two years practicing dentistry at the Wilma P. Mankiller Health Center in Stilwell, and in December 2005 was promoted to the Dental Clinic Supervisor at the Redbird Smith Health Center in Sallisaw.  He took over the dental practice of Dr. Tom Been in Tahlequah in May 2008 and feels blessed to be serving our area today!
He is Pankey Institute and Spear Education alum.  He is a member of the American Sleep and Breathing Academy, Academy of General Dentistry, American Dental Association, and the Oklahoma Dental Association.  In addition to general dentistry continuing education, Dr. Rouse has kept abreast of the latest in dental techniques and technologies.  Dr. Brant considers himself a Pankey Dentist.  He has completed the essentials courses at the Pankey Institute.  The focus of the Pankey education is providing excellent functional dental care that is properly designed to last many years.  The Pankey Institute is a hub for excellence in comprehensive restorative dentistry.
Dr. Rouse is the current vice-president of the Eastern District of the Oklahoma Dental Association.  He also attends and contributes to a Spear Study Club and Smilesource study club in Tulsa, Oklahoma.  
He enjoys meeting patients where they are oral health wise, and helping them craft a plan for oral health.  In dentistry, we treat three main diseases: dental decay, gum disease, and occlusion (bite and TMD/TMJ).  The bite is a very important piece of the equation.  Dr. Rouse offers aligner therapies to move teeth including Invisalign, Suresmile, and Clearcorrect therapies.   We also like to replace teeth with dental implants when the situation presents itself.  Our focus is to provide the highest care of care in both relationship and quality.  Dr. Rouse and his staff would love to serve you and your family's dental needs.
Brant met his wife, Jennifer, while they were on college summer break in 1999.  The couple wed in 2001 and had their first child Weston in 2004, second child Addison in 2006, and Baylor in 2010.  The doctor spends his off time with numerous activities with the kids such as baseball, basketball, theatre, music, and church activities.  He enjoys family time on Lake Tenkiller and family vacations when possible. 
---
Mark Harwood, D.D.S.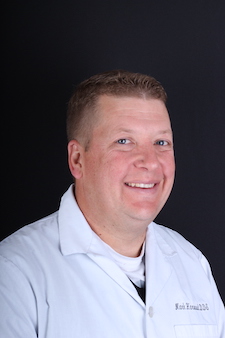 Dr. Mark Harwood grew up in a small town in South East Kansas. Following graduation from Kansas State University, he attended the University of Missouri Kansas City School of Dentistry receiving his DDS in 2002. He then completed an advanced education in general dentistry residency at Ft. Sill, OK while serving in the United States Army. In 2005 he completed his service and was honorably discharged. Having spent his summers in Oklahoma growing up he relocated to the Tulsa area.
Dr. Harwood is a member of the American Dental Association, the Oklahoma Dental Association, and the Tulsa County Dental Society. He serves as a member of the UMKC School of Dentistry alumni board. Dr. Harwood regularly attends courses on the latest procedures and techniques.
Dr. Harwood and his wife, Ashley, have two children and two dogs with whom they love spending time. In his free time, Dr. Harwood enjoys fishing, boating, sports, and being outdoors.
---
Our Staff
Hunter M. – Office Manager
Jennifer B. – Insurance Coordinator
Megan S. – Front Receptionist
Makayla S. – Front Receptionist
Beth S. – Dental Hygienist
Melanie B. – Dental Hygienist
LaRissa P. – Dental Hygienist
Kenna C. – Hygiene Assistant
Heather W. – Dental Assistant
Kayelynn K. – Dental Assistant