Orthodontic Clear Aligners
Clear aligners are almost invisible and a great treatment option for many orthodontic issues. We offer several state-of-the-art types of clear aligners to help you achieve the smile you've always wanted.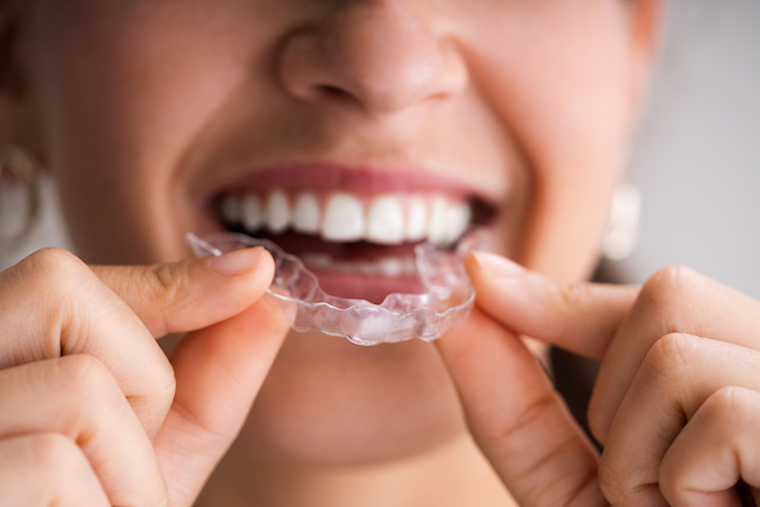 Clear aligners are a removable type of orthodontic appliance designed to replace traditional metal braces and wires.
Orthodontic clear aligners are plastic replicas of your teeth. Wearing them applies gentle pressure on your teeth, slowly repositioning your teeth and jaw to properly align and create a healthy and beautiful smile.
Orthodontic Treatment with Clear Aligners
Like traditional braces, aligners are designed to move teeth a little at a time. Before treatment begins, your dentist:
Examines your teeth and mouth
Takes diagnostic records (x-rays, photographs, and impressions or digital scans of your teeth)
Determines your diagnosis
Works within the aligner software to design your smile and plan the treatment process
Benefits of Clear Aligners
Discreet – Nearly invisible appliance
Removable – No dietary restrictions and easy to brush and floss
Comfortable – Fewer discomfort issues than traditional wires and brackets
Cost of Clear Aligners
Most single arch aligners start at $2500, including the retainer. For full mouth orthodontic cases, the cost generally ranges from $5000 to $7000 total for the treatment.
How long does it take for clear aligners to work?
The goal of clear aligners is a healthy bite – top and bottom teeth that fit together properly. Moving teeth is a complex process and needs start-to-finish supervision by a dental professional.
Most patients come in about every six-to-ten weeks.
A series of plastic aligners are created using your initial impressions or digital scans as the starting point. The total number of aligners will vary by the needs of each patient. It is recommended that aligners be worn 22 hours a day, or as prescribed.
Each set of aligners is worn for a week or two before moving on to the next set. Over time, teeth reach their ideal places, according to your personalized plan.
Types of Orthodontic Aligners We Offer
We offer several types of in-office clear aligners, including:
SureSmile Aligners
SureSmile® clear aligners use advanced technology and proven materials to provide a customized, comfortable fit from the first aligner to the last. They are designed to ensure fit, promote better oral hygiene, and deliver the exact tooth movements needed to achieve your ideal smile.
SureSmile Aligners promote better oral hygiene and you'll enjoy:
Long-lasting aligners
Clinical expertise
Precise fabrication
Sophisticated treatment planning
Faster results than some other aligners
Invisalign Aligners
Invisalign clear aligners are made from SmartTrack material, so they are more comfortable and easier to put on and take off. You get customized treatment based on years of research and intelligence from millions of patients.
Some benefits include:
First clear aligners to hit the market
Well-established and widely trusted
Aligners are discreet and don't interrupt your life
Fits snugly around your teeth
ClearCorrect Aligners
After more than 12 years in business, ClearCorrect has helped hundreds of thousands of patients achieve better smiles and has served tens of thousands of dentists all over the world, delivering millions of aligners to their patients.
Some benefits include:
Attractive and accessible
High quality and made in the US
Founded by dentists
Faster and more affordable than some other aligners
Are you ready to improve your smile? Request an appointment today to see if you are a good candidate for orthodontic clear aligners.